Post by gijohn on May 3, 2012 6:24:56 GMT -5
Hi all,
I'll be parting out my XJ during the next two weeks. I will try to describe them to the best of my ability. These come from a 92 4 door XJ, 4.0 and AW4. The Jeep has 176,400 miles and has run flawlessly. The body and Uniframe rotted to the point of being unsafe for the family which is the reason for the part out.
With that being said, the following are for sale: Big items will have to be picked up at Fort Dix (or surrounding towns), smaller items can be shipped on your dime. Prices are OBO unless stated. I would only be interested in trading for FSJ parts or a LS series motor/trans/TC/Wiring Harness to swap into my FSJ Cherokee.
Ford 8.8:
(out of 98 Explorer) 4.88 Gears, Detroit EZ Locker, Warn Diff cover. Brakes are good, recent fluid change. (will include brake cables)
600.00
4.0 engine
176,400 miles. Ran well, no known issues.
300.00AW4:
176,400 miles. Fluid religiously changed, runs and shifts great. Recent fluid change with DEX VI.
250.00 THOR rear quarter panel guards.
Could use a paint job, but otherwise in good condition. Hardware and lights included
200.00
Lower door armor
6 pieces total, screws or rivets on.
100.00Custom rear Bumper:
Designed to work with the cut and fold quarters and follows new body line. 2" receiver and shackle mounts built in.
250.00
ARB Winch Bumper:
Has a slight tweak to right side, otherwise great condition.
500.00 RE 1462 Rear Springs:
Great Condition, no sag at all, bushings in excellent condition
180.00
Wheels/Tires:
33x12.5x 15 Firestone Destination MT's on 15x8 AR Outlaw II wheels: Slight rock rash, tires have a min 10/32ds tread remaining, some cracking and a plug or two.
500.00
(prefer not to separate)
Stock fuel tank skid: 50.00Fuel injectors:
I have 3 AUS MP-10739 reman injectors. Still in box.
30.00Front Driveshaft: 50.0033" Spare
33x12.5x15 Kelly Safari MT on 15x8 Rock Crawler Could use some paint
75.00
Intake Manifold
Stock Aluminum
20.00
Fuel Rail with injectors
30.00
Throttle Body with sensors
30.00
Stock Air Box
10.00
Center Console: Gray with lid
20.00
Engine computer:
30.00
Transmission Computer
20.00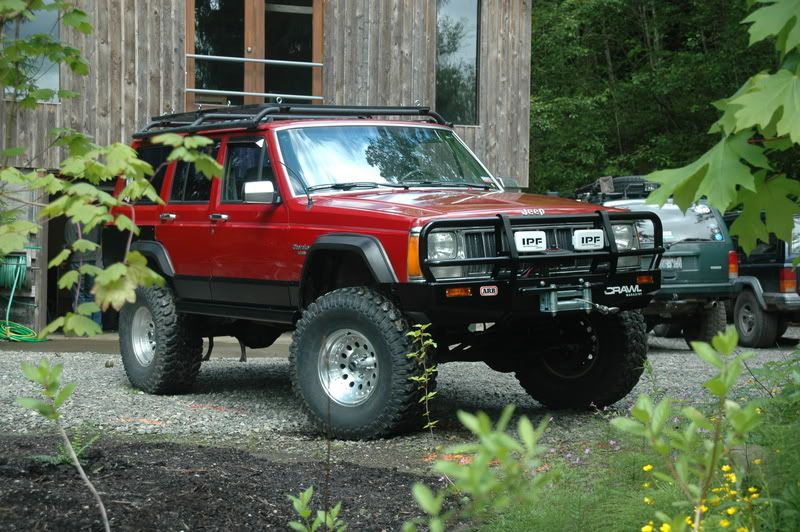 For those that are asking, the Top Hat Rack is long gone. Sorry for the confusion.
This is all I can think of. I have many other parts available. The interior has seen better days. Let me know what you need and we'll work something out.
Thanks for looking,
John