Post by biohazed on Jan 19, 2013 22:26:10 GMT -5
Figured I should make a build thread, lol
Anyway this is all going to be a update to current status. My Jeep started as as bone stock 1990 Jeep Cherokee Limited I bought off a guy off of City Line Ave for $1100. Of course it wasn't perfect, made the trip home on a flatbed in fact (due to wiped out water pump bearing.) A new belt, Water pump and Radiator later it was finally running.
Here is some pics from when I got it back in August, 2011
now for some build Jargon, the Build sheet from 1990:
*XL Leather Trimmed Bucket Seats
APAS Monotone Paint
ARP Limited Decor Group
BGK 4-Wheel Anti-Lock Brakes
CACP Low Back Bucket Seats
CDBP Reclining Front Seats
CFMS Rear Folding Seat
CKBP Floor Carpet
CKNP Cargo Compartment Carpet
CKTP Cargo Tie Down Loops
CKVP MOPAR Third Row Cargo Bins w/Table
CLEP Front & Rear Floor Mats
CSAP Spare Tire Cover
CSCP Cargo Compartment Cover
CSRS Passenger Assist Handles
CUFP Full Length Floor Console
CUNP Overhead Console
DGB All 4-Speed Automatic Transmissions
DGSS 4-Speed Automatic AW4 Transmission
DHPP Selec-Trac Full Time 4WD System
DHSS Floor Mount Automatic Shift Lever
DJHS 230MM Front Axle
DMDS 3.55 Rear Axle Ratio
DRMP Dana 35C/194MM Rear Axle
GAJP Sunscreen Glass
GBBS Tinted Windshield Glass
GCBS Front Door Tinted Glass
GECP Front Left Side Sliding Window
GFAP Rear Window Defroster
GNAS Rear View Day/Night Mirror
GNCP Sun Visors w/Illum Vanity Mirrors
GRKP Left Power Mirror
GSKP Right Power Mirror
GTKP Power Mirrors
GVBC All Vehicles W/Power Mirrors
GXMP Remote Keyless Entry
HAAP Air Conditioning
HGDP Deluxe Insulation Group
JAYP Instrument Cluster w/Tach
JCAS 85 MPH Primary Speedometer
JGBP Digital Clock
JHAP Var Intermittent Windshield Wipers
JHBP Rear Window Wiper/Washer
JJAS Cigar Lighter
JPAP Power Windows
JPBP Power Locks
JPTP Power Front Driver/Passenger Seats
LAJP Headlamps On Warning Chimes
LBBP Courtesy Lamps
LBCS Glove Box Lamp
LBDP Ash Tray Lamp
LBEP Cigar Lighter
LDBP Cargo Compartment Lamp
LDHP U/Hood, Removable/Rechargeable Lamp
LHDP Headlamp Off Time Delay
LMAS Halogen Headlamps
LNJP Fog Lamps
MBPP Body Color Front Bumper
MBQS Body Color Rear Bumper w/Step Pads
MCAP Front Bumper Guards
MFKP Body Color Grille
MHAP Black Windshield Moldings
MMCS Rear Qtr Solid Window Insert
MMGS Belt Moldings
MMKP Body Color Drip Trough Molding
MTAS Rear Fascia Skid Plate Applique
MWGP Roof Rack
NAAS Federal Emissions
NBKS EVAP Control System
NFAS 20 Gallon Fuel Tank
NHMP Speed Control
PW7 Bright White Clear Coat
QW7S Bright White Clear Coat
RAAC All Radio Equipped Vehicles
RAFP AM/FM Cassette Radio
RCGP 6 Speakers
RDCP Power Antenna
SBAS Power Rack and Pinion Steering
SCGP Leather Wrapped Steering Wheel
SFCP Front Perf Tuned Shock Absorbers
SGCP Rear Perf Tuned Shock Absorbers
SUAP Tilt Steering Column
TAAC All Tires
TBB Full Size Spare Tire
TBLS Inside Mounted Spare Tire
TRMA P225/75R16 BSW On/Off Road Tires
WJRP 16X6.0 Aluminum Chrome Wheels
WLZC All Aluminum Wheels
YAAS Build To U.S. Mkt. Specifications
anyway one of the first mods was a bracket to hold the CB antenna and to mount the CB:
Also added a CARR light from from Quadratec and some Hella Comet 550's from eBay. Also salvaged a set of weathertech floormats from my GTP Iwas about to Junk.
After a few weeks I got a Rough Country 3" X-Series lift from Jeeperz4WD, a set of Procomp X Series 1069 16" rims off of Craigslist for $75, and some used BF Goodrich All Terrain T/A LT265/75R16's as well as sme new Diff covers from Solid Axle Industries nowI was ready to lift her:
Test Fit w/o lift:
Finished product:
then I run into my first major issue, The Benix-9 ABS brake system decided to stop working correctly.. so out with the deathtrap brakes and in with a Brake Booster and Master Cylinder from a 1996 Cherokee: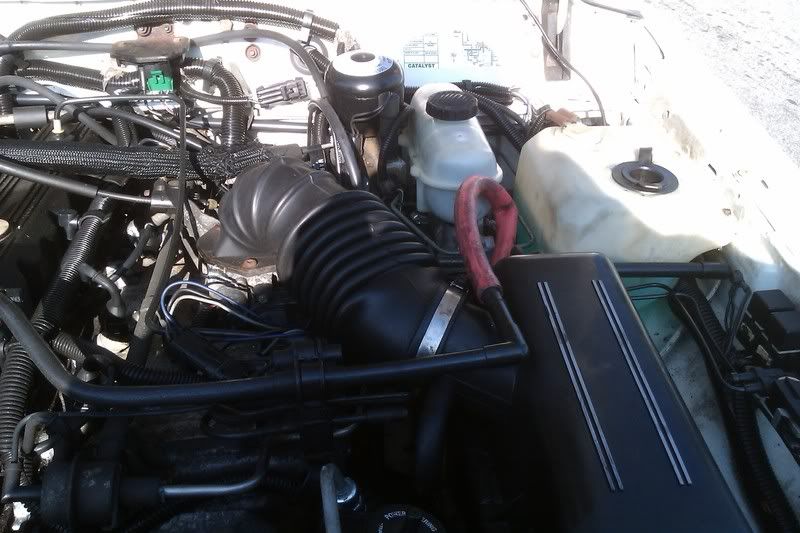 i160.photobucket.com/albums/t171/Biohazed666/IMAG0241.jpg
After a couple of set backs (rear axle lines, snow, new wheel cylinders it was finally ready to be back on the road just in time for the Jeeps in the Vineyard 2011 show:
i160.photobucket.com/albums/t171/Biohazed666/385450_2611316213026_1558639040_2806724_2024579053_n.jpg
After the show tackled a few other problems, leaky valve cover, leaky injectors, etc
Now next fun mod: Install the snorkel and installed some 97+ Mirrors:
Next, scored a Olympic Winch Bumper off of a guy on Cherokeeforum.. however got ripped off on it as it was really bent up but, after a little work with a backhoe and forklift I straightened it out so I could install it:
Next up was some JKS Quicker Disconnects(scored from eBay), ProComp ES3000 Stabilizer and a Rubicon Express Trackbar
After another killer score, got a set of JCR Stage 3 Sliders from a seller on NAXJA:
Now comes more repair work, new Rear Main Seal, Oil Pan Gasket, Oil Pump and Oil Filter Relocation O-Rings, Swapped out the CB for a Galaxy 99V, New Tires (Forestone Destination M/T's, got a Alternator Upgrade to 105amp and replaced the Battery with a Optima Red Top
as well as new Battery Cables and added some grounds to the body.
Gotta love Tax Returns,, Spend some money from it and bought the Delta Xenon upgrade housing, Rough County RS9500 Winch, Terraflex 2" Rear, 1 1/2" From Budget Boost, a JL Audio 12" sub and a factory Sound bar with Rockford Fosgate Power 5 1/4"s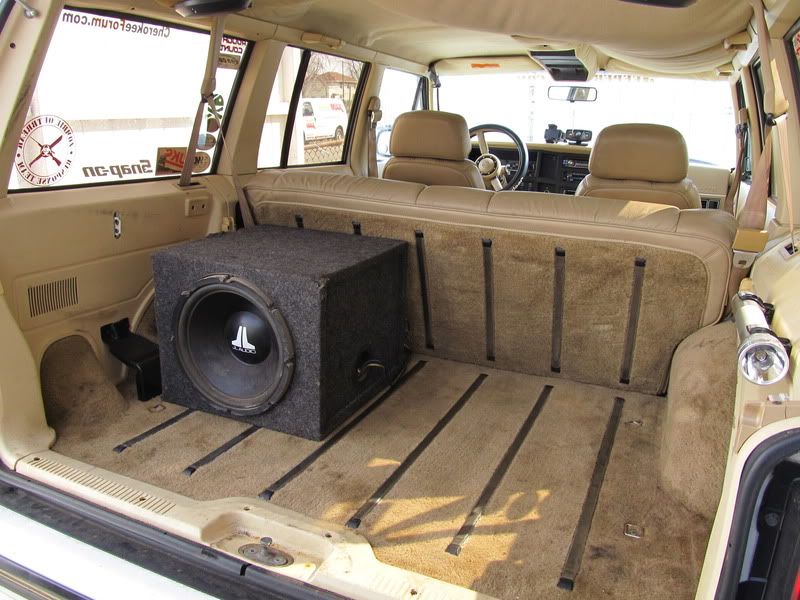 I took a break from it for a few months, due to some issues I was dealing with, finally brought it out and replaced both from calipers and rotors, front pads, and all 3 brake lines with YJ brake lines.
then it was prep time fro the next Jeeps in the VIneyard Show, so I decided to do some paint work:
Jeeps in the Vineyard 2012:
A Few weeks to go, had some more issues, Replaced the exhaust due to a broken muffler, and a bad Idler pully and harmonic Balancer than needed to be replaced. Also had to RMA my winch as it stopped working. Haven't reinstalled it yet.
Today, worked on it some more, despite having the flu, Changed the radiator, both hoses, and some other odds and ends, then for fun pulled the JKS Quicker disconnects and flexed her out:
so now we are up to date, lol. I know its long, but I thought I should give my build history. this is what happens when you are stuck home and bored sick. lol